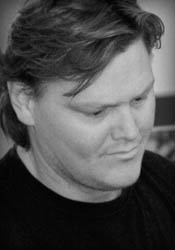 Born and raised in Lehi, Utah, Mike has always had a fascination for Native American culture and the history that shaped the land that surrounded him.  Much of his childhood was spent exploring the canyons experiencing firsthand the timeless wonders of Utah's history.  The effect of this knowledge is evident through his work, as he has acquired a remarkable flair for bringing the richness of the past to life.  His work is flavored with the vast soul of the desert, the majesty of the mountains, and the determination of the people who live there.  His aggressive style and intense focus on his subject gives each piece a distinct history all their own.
Mike has been blessed with a unique combination of talents, which he has actively pursued throughout his life; artist, musician, published illustrator and retired professional football player.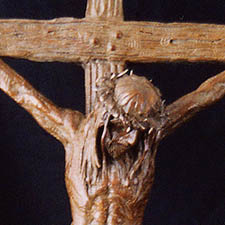 Drafted from Utah State University by the Buffalo Bills in 1985, Mike managed to tackle his four years with the team with the same amount of enthusiasm that he has for life.  After a career ending injury in 1989, Mike went back to his natural born talent, his artwork.  He has received a wide range of commission sculpture works including Merrill Lynch, USA Today, the NFL Hall of Fame, the College Football Hall of Fame and the National Wildlife Research Center in Fort Collins.  His largest commission, "Fierce Encounter," towers over the entrance of Cabela's largest store in Dundee, Michigan.
Whether he is working with clay or painting, Mike's unique passion for life brings a tremendous amount of power and grace to whichever medium he chooses.